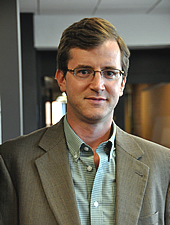 Washington and Lee law professor Christopher Bruner recently participated in a roundtable discussion at the Wharton School (University of Pennsylvania) titled Rethinking Shareholder Value and Purpose(s) of the Firm III.  Sponsored by the Carol and Lawrence Zicklin Center for Business Ethics Research and the Initiative for Global Environmental Leadership at the Wharton School, together with the Aspen Institute Business & Society Program, the roundtable was the third in a series of Aspen-sponsored discussions bringing together law faculty, business faculty, and business/investment practitioners with a variety of backgrounds and perspectives on the purpose and social impact of the modern business corporation.  It is the second Aspen-sponsored discussion in which Professor Bruner has participated (click here for prior event).
Professor Bruner served as a "provocateur," leading a discussion on "Populism and Corporate Purpose" that examined the state of the social contract between corporations and society, as well as the distribution of rewards and risks associated with corporate activity.  A written version of Professor Bruner's remarks has been posted at The Exchange (A Yahoo!Finance Blog) and the Governance Center Blog of the Conference Board, an independent global business membership and research association.
Christopher Bruner joined Washington and Lee as an Associate Professor in 2009.  His teaching and scholarship focus on corporate law and securities regulation, including international and comparative dimensions of these subjects.