Here is the press release from the American Institute for Contemporary German Studies regarding today's appearance by W&L Law Professor Russell Miller: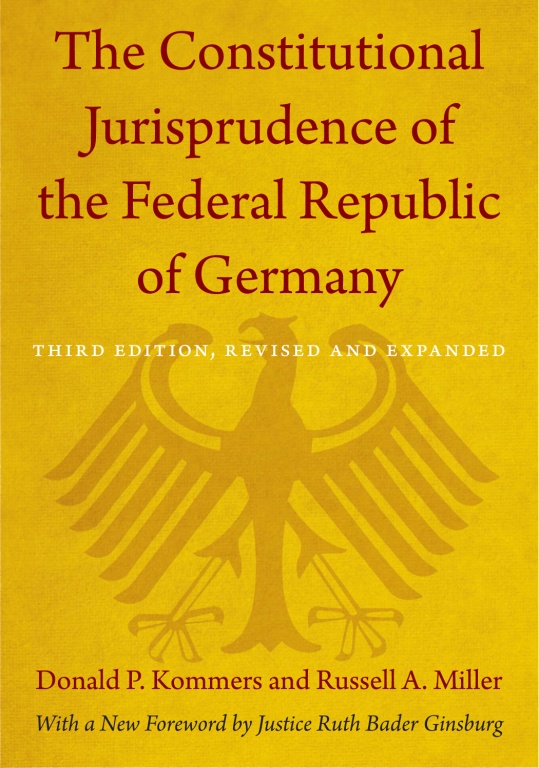 AICGS, the Goethe-Institut's Mapping Democracy Series, the German Embassy-Cultural Division, and the Robert Bosch Foundation Alumni Association are pleased to host Donald Kommers and Russell Miller, co-authors of The Constitutional Jurisprudence of the Federal Republic of Germany (2012), for a panel discussion on "The Constitutional Framework for German Democracy." The event will take place at 6:30pm on Thursday, April 11, 2013, at the Goethe-Institut, 812 Seventh St, NW.
This new edition, with its extensive treatment of the German law of democracy, comes at an appropriate time, shortly before Germany's federal elections in the fall. In this discussion the authors will explore the constitutional facets of electoral processes in Germany as well as the broader notion of democracy in the Constitutional Court's decisions. The book, an English-language commentary on German constitutional law, also features translations of more than 100 decisions of the German Federal Constitutional Court. In her foreword to the latest edition, Supreme Court Justice Ruth Bader Ginsburg calls the book "a masterful text."
Prof. Donald Kommers is a Joseph and Elizabeth Robbie Professor of Political Science and Concurrent Professor of Law Emeritus at Notre Dame University Law School. He is the author of over 100 major articles and books and his next book, Germany's Constitutional Odyssey, is expected to be published in early 2014. Prof. Kommers earned his B.A. in philosophy and English literature from the Catholic University of America and his advanced degrees (M.A. and Ph.D.) in political science from the University of Wisconsin-Madison, where he also studied law.
Prof. Russell Miller is a Professor of Law at Washington and Lee University School of Law. He has been a guest professor in Germany and a frequent Research Visitor at the Max Planck Institute for Comparative Public Law and Public International Law in Heidelberg.  He was a 2009/2010 Fulbright Senior Research Fellow to Germany. Alongside books in the fields of comparative law, international law, and U.S. constitutional law, Prof. Miller has published articles and commentary in the American Journal of International Law, Columbia Journal of Transnational Law, Indiana Law Journal, Journal of National Security Law, Journal of Comparative Law, and Washington & Lee Law Review. Prof. Miller graduated with a B.A. in English literature from Washington State University and his J.D. and M.A. in English literature from Duke University. He also received an LL.M. from Johann Wolfgang Goethe University in 2002.