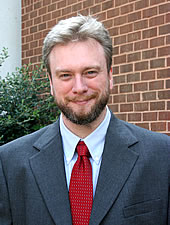 On Oct. 26, Washington and Lee law professor Josh Fairfield presents his paper on social media privacy at the Conference on Empirical Legal Studies (CELS) at the University of Pennsylvania Law School. Prof. Fairfield coauthored the paper with Christoph Engel of the Max Planck Institute.
Now in its eighth year, CELS features original empirical legal scholarship by leading scholars from a diverse range of fields. The conference is very selective in terms of the presentations and includes commentary from top scholars on each paper.
Fairfield's paper is titled "Big Brother is Watching You Because Little Brother has Opened the Door: An Experiment on Information Sharing in Social Networks." The paper studies the problems people have protecting their privacy over social networks.  Fairfield and Engel observe that legal policy characterizes privacy as a private problem that each person needs to protect for themselves.  But they argue that in reality privacy is a social construct: you do not need it on a desert island.
Consequently, the authors study data pollution as a public bad–a pool to which we all contribute information about each other.  In the wake of the Snowden revelations about the Prism program, in which Americans' social network data was provided to intelligence agencies on a massive scale, the authors believe it is more important than ever to understand how privacy is everyone's problem.
For more information about CELS, visit the conference website.