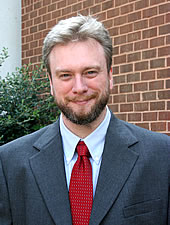 On Dec. 4, Washington and Lee law professor Josh Fairfield will present during a plenary session at  the Minnesota Annual Judicial Conference. The title of his talk is "We the People in a Virtual World." Below is the abstract for the talk:
What if The Matrix were real? Through virtual world technology, users experience persistent and interactive computerized three dimensional worlds populated by many other people, all while sitting at their computer, or even as they walk or drive around. There is a lot of money at stake in this technology. Millions of citizens spend thousands of hours and billions of dollars in virtual worlds, for digital objects, or to buy digital currency. Virtual worlds, social networks, and augmented reality enable people to live out their economic, social and political lives in new online communities. Because citizens care deeply about their property, personhood, and community, they will bring claims of harm or disputes needing resolution to courts.
In the common law system, state courts see technology cases first. The common law often is technology law. New cases are often cases of first impression because of new technology. Virtual world technology has brought multi-million-member communities together online and supported a multi-billion dollar economy, but it has also afforded new opportunities for fraud, crime, or disputes over property. Claims of theft of virtual property, fraud through Ponzi schemes based on virtual currency, and questions who inherits virtual property or social network accounts either have or will soon come before courts.
This presentation will touch on core common law areas, and show how they are likely to be affected by the rise of virtual worlds, social networks, virtual currency, and wearable computing. The presentation will begin with an introduction to virtual world technology, continue with a description of the present and near-future cases that courts have or will soon engage, and conclude with a further-future look at the future of crypto-currencies. Finally, the developments of the past year make it clear that virtualization technologies will not merely remain in virtual worlds, but increasingly impact everyday life. Virtual currencies let drug dealers sell real drugs. Wearable computing like Google's Glass take virtual worlds out of the desktop computer and overlay it on top of the real world. This look into the further future will also engage mixed and augmented reality technologies: computer technologies that bring these virtual experiences into the real world.