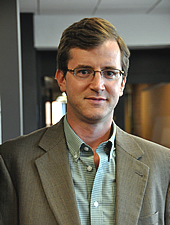 Washington and Lee law professor Christopher Bruner's book, Corporate Governance in the Common-Law World: The Political Foundations of Shareholder Power, was recently the subject of an online symposium.  Styled a "book club," the symposium was hosted by Prawfsblawg, a widely followed legal academic blog.  Contributors included Matthew Bodie (Saint Louis University School of Law), John Cioffi (University of California, Riverside Department of Political Science), Andrew Gold (DePaul University College of Law), Joan Heminway (University of Tennessee College of Law), Brett McDonnell (University of Minnesota Law School), and Daniel Sokol (University of Florida Levin College of Law).
The contributors approached Professor Bruner's work from a range of perspectives – including corporate law and governance, labor law, social welfare policy, political economy, and finance – but were uniform in their praise.
According to law professor Matthew Bodie, Professor Bruner's book
… does a great service in expanding and deepening the debate over the nature of corporate governance.  Employees have been pretty much left out of the corporate-governance models in legal academia, going back at least to Easterbrook and Fischel, and perhaps as far as Berle and Means….  By drawing a connection between corporate law and labor and employment law, Bruner has expanded the scope of "the law of the firm," for lack of a better term, to include not just shareholders, boards, and top-level executives, but rather all the participants in the firm, especially employees.
John Cioffi, a political scientist, adds that Professor Bruner
… has made an important contribution not only to the literature on comparative corporate governance, but also to the broader field on comparative political economy…. Bruner powerfully explodes the analytical categories of the "common law countries" and "liberal market economies" by analyzing at length and in depth the substantial legal and political economic differences across these nations….  I am unaware of a comparably sustained and in-depth comparative treatment of corporate and economic governance in the common law countries that so clearly articulates the systemic significance of the differences across them.
Professor Bruner's book, published in 2013 by Cambridge University Press, examines the corporate governance powers possessed by shareholders in the U.S. and other common-law countries. Bruner finds, contrary to popular belief, that shareholders in the U.K. and other common-law jurisdictions are both more powerful and more central to the aims of the corporation than are shareholders in the U.S. Bruner's theory is that relatively robust social welfare protections in countries like the U.K., Australia and Canada have freed up their corporate legal systems to focus more intently on shareholder interests without giving rise to "political backlash" – because other legal structures accommodate the interests of employees.
The complete series of posts on Professor Bruner's book is available here.  Read more about Professor Bruner's scholarship here.