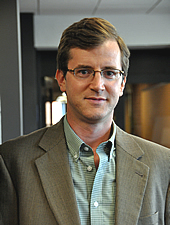 Christopher Bruner, the William Donald Bain Family Professor of Corporate Law at Washington and Lee, was a Visiting Professor during the week of September 12 at the Southwest University of Political Science and Law (SWUPL) in Chongqing, a major economic center on the upper Yangtze River in southwest China.  SWUPL is regarded as one of China's top institutions for legal education.
As a part of his visit, hosted by SWUPL's Civil and Commercial Law School, Professor Bruner gave two lectures based on his book, Corporate Governance in the Common-Law World: The Political Foundations of Shareholder Power (Cambridge University Press, 2013).  A Chinese edition of the book, translated by Professor Lin Shaowei of SWUPL's commercial law faculty, recently appeared in print.
Corporate Governance in the Common-Law World has been called "a revelation," and "a work of monumental significance and scholarly craft."  In the book, Professor Bruner develops a new political theory to explain why shareholders in the U.K. and other common-law jurisdictions are both more powerful and more central to the aims of the corporation than are shareholders in the U.S.  Specifically, he argues that relatively robust social welfare protections in countries like the U.K., Australia, and Canada have freed up their corporate legal systems to focus more intently on shareholder interests without giving rise to "political backlash" – because other legal structures accommodate the interests of employees.  Professor Bruner's second book, Re-imagining Offshore Finance: Market-Dominant Small Jurisdictions in a Globalizing Financial World, will be published by Oxford University Press in late 2016.  Read more about Professor Bruner's scholarship here.