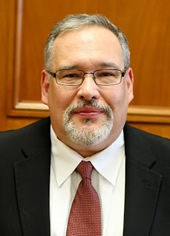 Washington and Lee Visiting Professor of Law, Todd Peppers, will publish a new book this summer with co-author Margaret Anderson.  The book, titled "A Courageous Fool: Marie Deans and Her Struggle against the Death Penalty" will be published by Vanderbilt University Press on July 15, 2017.
From the publisher:
There have been many heroes and victims in the battle to abolish the death penalty, and Marie Deans fits into both of those categories. A South Carolina native who yearned to be a fiction writer, Marie was thrust by a combination of circumstances—including the murder of her beloved mother-in-law—into a world much stranger than fiction, a world in which minorities and the poor were selected to be sacrificed to what Supreme Court Justice Harry Blackmun called the "machinery of death."

Marie found herself fighting to bring justice to the legal process and to bring humanity not only to prisoners on death row but to the guards and wardens as well. During Marie's time as a death penalty opponent in South Carolina and Virginia, she experienced the highs of helping exonerate the innocent and the lows of standing death watch in the death house with thirty-four condemned men.