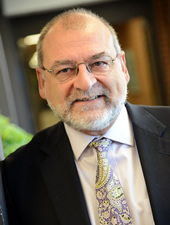 On November 3 and 4, 2015 Washington and Lee law professor Jim Moliterno worked in Czech Republic on a project organized by a Czech NGO, Pro Bono Alliance, and financed by The US Embassy-Prague and the Prague international law firm, Kinstellar. The work was designed to increase the possibilities of required lawyer ethics courses at Czech Republic's main law schools, Charles University in Prague, Masaryk University in Brno and Palacky University in Olomouc.  Professor Moliterno met with interested faculty and deans and conducted a demonstration lawyer ethics class for a group of each school's students with interested faculty and deans observing.  He has already been invited back by two of the schools to teach a short ethics course.
In addition to the law school events, Professor Moliterno conducted a session with business lawyers in Prague at the Kinstellar offices. The group of about 25 lawyers engaged thoroughly in his interactive ethics teaching and several proposed that he do such a session for their own firms' lawyers in house.
Finally, Professor Moliterno was the guest of honor at a reception hosted by the US Ambassador at the Ambassador's Residence in Prague.  The guests were leading lawyers, leading professors and deans, and Constitutional Court judges.